UNIQUE EXPERIENCES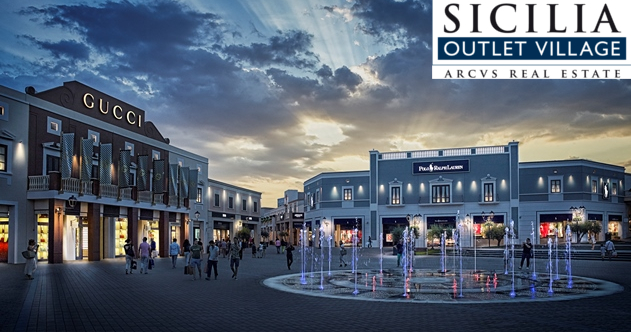 SICILIA OUTLET VILLAGE - SHOPPING EXPERIENCE
Over 140 stores under the most prestigious national and international fashion labels, prices cut by up to 70% all year round and millions of visitors to date: such are the figures explaining the success of Sicilia Outlet Village, the island's luxury shopping destination. Here, exclusiveness, savings and quality come together across a wide variety of product categories, from sportswear to casual clothing, from footwear to accessories and the coveted collections of top brands including Gucci, Polo Ralph Lauren, Dolce & Gabbana, Armani, Versace, Tod's, Hogan, Fay, Michael Kors, Dsquared2, Ermenegildo Zegna, Etro, Hugo Boss, Trussardi, Iceberg, M Missoni, Abercrombie&Fitch and Ferrari Store. Offering a unique "shopping experience" for Italian and foreign visitors, the Village is a temple of style and new trends for discerning purchasers and the first and only real Outlet Village in Sicily, combining fashion, culture, architecture, cuisine and the magic of the surrounding landscape
For VIP guests the Sicilia Outlet Village offers a Private Concierge Service to book the most out-of-the ordinary experiences such as Personal Shopper Service, Drive Test or transfer by Ferrari Car, Helicopter service.
A magical moment in Sicily, immersed in the notes, dances and atmosphere straight out of the novel "The Leopard"
Immerse yourself in the culture and history of Sicily with a unique experience, in the unbelievable locations of its historic castles and residences. The National Company of Historic Dance - Harmonia Suave offers a unique kind of entertainment through affiliates in Palermo, Syracuse, Catania, Agrigento and Trapani. Relive the atmosphere of the "The Leopard", Tomasi di Lampedusa's famous novel, and undisputed prince of Sicilian culture. A novel which holds up a mirror to the aristocratic Sicilian society of the 19th century, enveloped in the morbid clutch of a romantic dream. The Leopard reinstates the form of entertainment that prevailed throughout Europe during the nineteenth century by proposing dances with captivating rhythms – quadrilles, country-dances, waltzes and mazurkas, introduced with anecdotes from the Master of Ceremonies and danced using the most brilliant and popular costumes and music of the era. Lessons in dance and Sicilian 19th century culture are followed by the trying-on and selection of costumes for the final themed gala dinner in a historic palazzo. The magic and inimitable quality of the event will remain written in the memory and hearts of your guests. Thanks to method with which unfolds, it leads to active participation and the final involvement of everyone present.